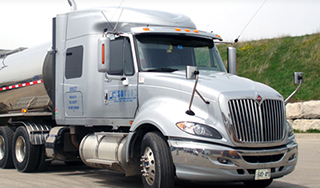 Best-in-Class Supply, Delivery & Storage of Intermediate Bulk Chemical Products.
SODROX CHEMICALS LTD. is a full-service chemical distributor, specializing in assisting customers with the supply, delivery and storage of chemical products.
Founded in 1984, Sodrox has been serving customers across Canada and the United States for over 30 years through chemical distribution as well as custom blending & packaging.
SODROX FLEET means customers receive Safe On-Time Delivery using Sodrox' own, government inspected trucks and tankers. All of our drivers are fully trained and tested on the safe handling and transportation of chemical products, and all deliveries are scheduled by Sodrox' own logistics team, allowing us to provide superior freight support to our customers.
View Full List of Products
View Our Services
Toll Blending & Packaging
Custom Tank Storage Systems
We are proud to be certified by NSF-ISR!
Sodrox Chemicals Ltd. has achieved ISO 9001:2015 quality management system certification from NSF-ISR, an NSF International company.
The standard helps organizations reliably meet the needs of clients in both the delivery and continuous improvement of products and services.